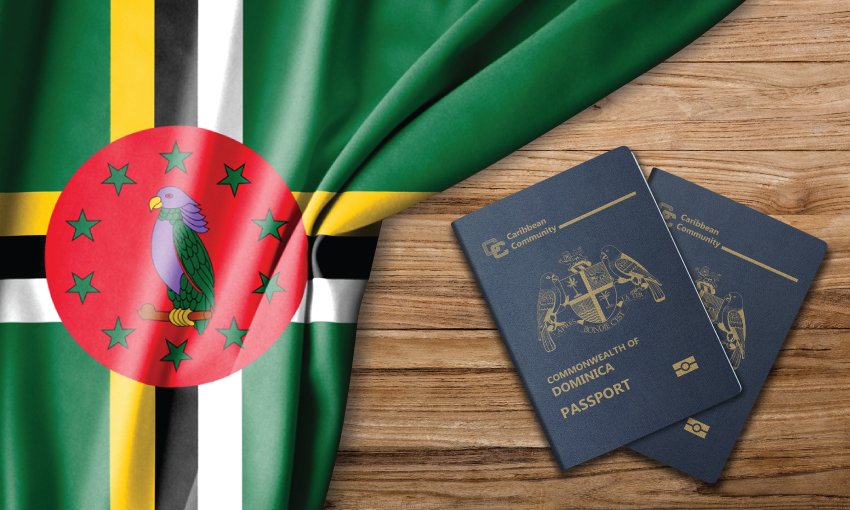 Published on:
12 October 2021
Successful participants in the Dominica citizenship process will walk away with a Dominica passport; one of the main advantages of becoming a Dominica citizen. This blog will serve as your guide to the Dominica passport application process. Keep reading for a checklist of the documentation required for a Dominica passport and for an overview of the two main pathways to citizenship: donation and the real estate option. By its end, you should have enough information to choose the best investment program for you and your family.
How to become a Dominica citizen
Select Guide Consultants as your authorized agent

The initial requirement for Dominica citizenship is the selection of an authorized agent (you cannot begin the Dominica citizenship process without first selecting your agent). Once you choose Guide Consultants as your authorized agent, you can proceed with the below steps:

Select your CBI pathway

Donation option

The first option offered under the Dominica CBI program, the donation scheme involves the applicant making a simple monetary infusion into the country's Economic Diversification Fund, for a minimum amount $100,000 USD.

Real Estate option

Applicants who select this pathway will purchase real estate on the island, for a minimum price of $200,000 USD. In exchange for purchasing and holding the property for the proscribed period, the applicant will receive citizenship.
Please note, under the terms of the real-estate option, you cannot simply purchase any property on Dominica for a minimum amount. In order to be eligible for the real-estate pathway, you must therefore purchase a property offered for sale under the CBI program.
Finally, please note that while those who pursue the real-estate option will automatically obtain Dominica residency through their investment, new homeowners do not need to live in the home they ultimately purchase (or even reside on the island at all) in order for them to retain their Dominica citizenship and passport).

Gather your required documents

Guide Consultants will help you prepare your required documents. While some of these will depend on the particular pathway you selected (donation vs. real-estate), others are required of all applicants (such as a passport and a number of basic required forms (among other materials). For a complete list of what you need to submit, see; "Checklist" paragraph below.

Await your decision

The due diligence process for Dominica CBI applications take anywhere from 2-3 months.

Pay your citizenship costs

Applicants must remit payment for citizenship in order to receive their Dominica nationality. Once your payment is received, you will receive documentation of your citizenship.

Apply for a Dominica passport

Once you officially receive your Dominica citizenship, you can then apply for a Dominica passport.
Checklist of the documentation required for a Dominica passport
Passport
Birth certificate
Photos of applicants
Financial and other forms relating to business and income (including relevant tax returns)
Resume
Police report (obtained from applicant's country of residence/citizenship)
Personal and business references
Certificate of marriage (if applicable)
Please note that the above list is not exhaustive. You may be asked to present additional materials depending on the nature of your application and the specific form of your investment. Finally, keep in mind that all application forms should be written in English.
Benefits of holding a Dominica passport
Being a Dominica passport holder has numerous benefits for those who successfully participate in the country's CBI program. Here are some of the highlights:

Tax freedom

Your Dominica citizenship is your passport to tax freedom. As a citizen, you will pay no taxes on income, inheritance, or capital gains. In addition, only residents are subject to personal taxes, which means citizens who do not reside on the island are exempt from paying.

Visa-free travel

A Dominica passport has minimal global visa obligations, allowing you to access to over 140 countries and destinations either without a visa or through a visa-on-arrival.
You can travel to all 26-countries in the European Schengen area without a visa: Austria, Belgium, the Czech Republic, Denmark, Estonia, Finland, France, Germany, Greece, Hungary, Iceland, Italy, Latvia, Liechtenstein, Lithuania, Luxembourg, Malta, the Netherlands, Norway, Poland, Portugal, Slovakia, Slovenia, Spain, Sweden, Switzerland.
Dominica passport holders can also travel to the following non-Schengen countries in Europe: Russia, the United Kingdom, Romania and Serbia (among others).
In addition to the above European countries, a Dominica passport will also allow you to enter almost all of South America without a visa, including Brazil, Argentina, as well as top business, tourism, and cultural destination across Asia (such as Singapore, Indonesia, and Malaysia) and Africa (Kenya, Tanzania, and Botswana).

Dominica dual citizenship

Unlike many other countries around the world, Dominica has dual citizenship, which means that you will be able to maintain your original citizenship when you become a Dominica national.

No Dominica residency requirements

Zero residency requirements mean that you do not have to live on Dominica in order for your citizenship and passport to remain valid. You can live abroad for the rest of your life and still retain all of the benefits of holding a Dominica passport.

Right to reside on the island

All successful applicants for Dominica citizenship, even those who apply via donation vs. the real estate option, will be entitled to Dominica residency.
As explained above, the Dominica CBI program does not have residency requirements for the maintenance of economic citizenship. However, living on Dominica has its advantages, and some economic citizens ultimately decide to do just that.
Dominica is an attractive island nation, which offers beaches for lounging, clear Caribbean waters for swimming and diving, and a vibrant, well-established urban center in its capital Rosseau. With a stable currency, government, and economy, and a clean and healthy environment, Dominica is an excellent place to live and raise a family.

Generational citizenship

The children of Dominican economic citizens can inherit the parents' citizenship.
For more information on how to choose the best investment program, and for all other queries pertaining to the Dominica citizen application process, please click here.