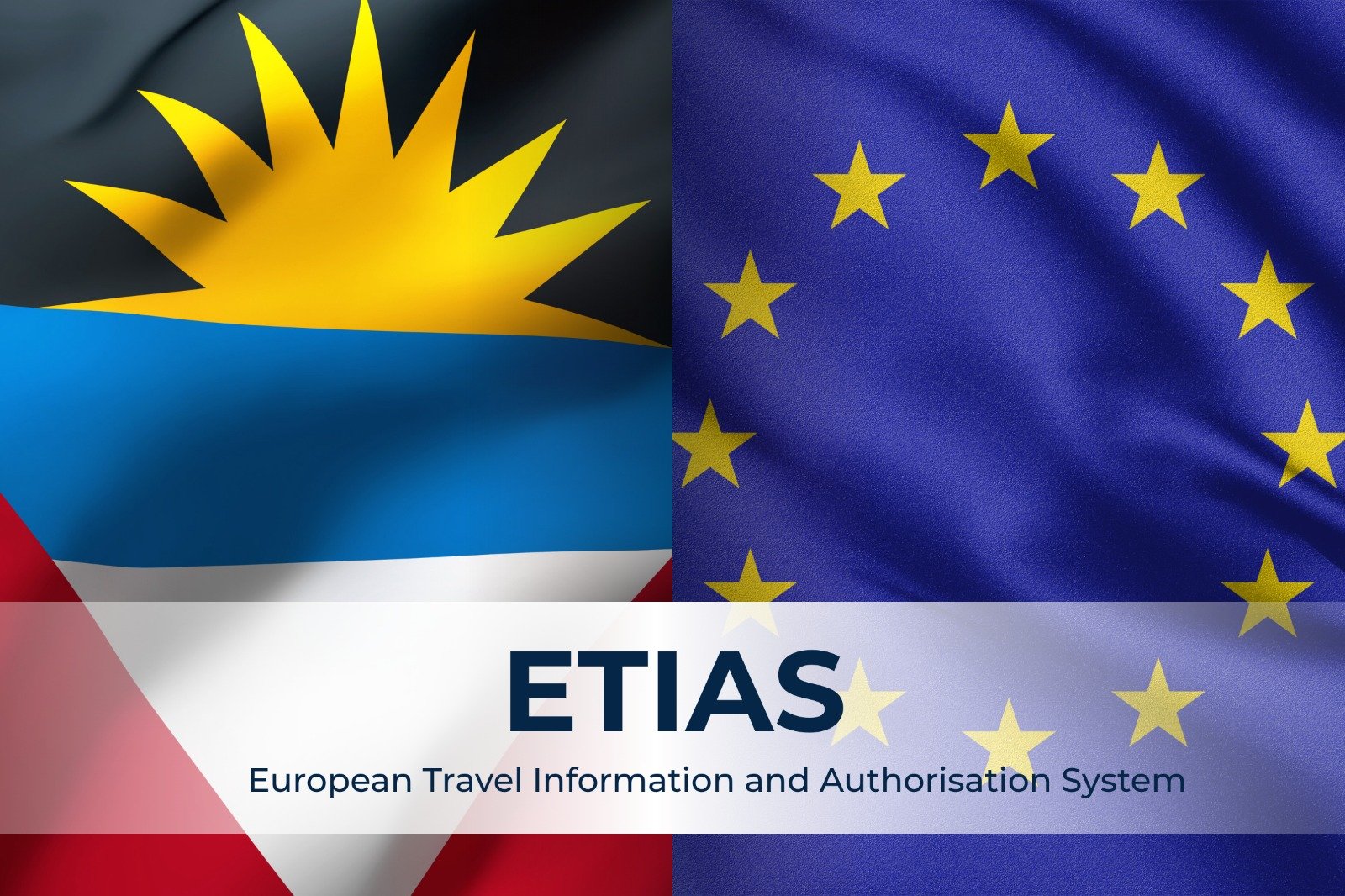 Published on:
08 September 2021
If you are looking to obtain Antigua and Barbuda citizenship through the country's Citizenship by Investment program (CBI), you may be worried about the upcoming European Travel Information and Authorization System; a kind of visa waiver that Antiguan nationals will soon need in order to travel throughout the European Schengen area. Some participants in the Barbuda CBI program are now wondering about the ETIAS visa waiver requirements and how they will impact their freedom of movement: a key benefit of the Antiguan economic citizenship scheme. Many who obtain Antigua and Barbuda citizenship do so mainly because of the number of countries accessible without a visa through an Antiguan passport. But what countries do Antigua and Barbuda nationals need an ETIAS for? And what are the ETIAS requirements for Antiguan and Barbudan citizens? Today's blog will answer these and other essential questions regarding ETIAS for Antiguan and Barbudan citizens. After reading the below ETIAS application advice, you should feel confident about traveling to Europe with ETIAS for citizens of Antigua or Barbuda.
ETIAS Eligibility for Citizens of Antigua and Barbuda
ETIAS eligibility applies to citizens of Antigua and Barbuda, as well as to the scores of other nationalities who do not require a visa in order to travel to the Schengen area by virtue of their citizenship.
If you are a national of a country whose citizens are required to obtain a Schengen visa in order to visit the Schengen area, then you are not eligible for ETIAS.
Because Antiguan and Barbuda citizens do not need a Schengen visa in order to travel to the Schengen area, they will need to apply for ETIAS.
Please note that Antiguan and Barbudan citizens will be eligible for ETIAS when the system debuts in 2022 (near the end of the year). Until then, Antiguans can continue to enter the Schengen area without first obtaining any pre-authorization, simply by showing their Antiguan passport.
Why ETIAS?
ETIAS was created in order to help secure the Schengen area from threats posed by visa-free travelers to its territory and peoples.
ETIAS therefore targets travelers who don't need a visa to enter the Schengen area—and who therefore do not undergo any kind of screening process that could theoretically result in their being denied entry to the zone (in the event that they are identified as a risk to it).
By requiring visa-exempt travelers to be screened for entry, the Schengen area can assume further control over its borders and prevent harmful individuals from traveling there.
How Does ETIAS Work?
When you submit your ETIAS application, it will be sent immediately to various EU security databases, including the SIS (Schengen Information System), Europol, and the VIS (Visa Information System). Your application will be electronically analyzed by these various systems, which will view your identity and see if you have any criminal history.
For example, if you previously committed a crime in the Schengen area, or you overstayed your time in the territory on a previous visa, or you are on some sort of terrorist watchlist, you will likely show up in these various systems. Applicants who do show up in the system will then have their ETIAS applications looked over by a real person, who will decide whether the applicant will present a security risk to the Schengen area. Antiguan and Barbudan applicants who are judged to present a risk to the zone will be denied an ETIAS (and therefore be unable to travel legally to the Schengen area).
ETIAS Requirements for Antiguan and Barbudan Citizens
The ETIAS authorization for Antiguan and Barbudan citizens includes the following ETIAS visa waiver requirements:

Antigua and Barbuda passport (valid, unexpired)
ETIAS authorization for Antiguan and Barbudan citizens application fee
ETIAS application form
Email address
What Countries do Antigua and Barbuda Nationals Need an ETIAS for?
Traveling to Europe with ETIAS for citizens of Antigua or Barbuda applies to the following countries:

Austria, Belgium, the Czech Republic, Denmark, Estonia, Finland, France, Germany, Greece, Hungary, Iceland, Italy, Latvia, Liechtenstein, Lithuania, Luxembourg, Malta, the Netherlands, Norway, Poland, Portugal, Slovakia, Slovenia, Spain, Sweden, Switzerland.

Therefore, you will have to receive an ETIAS for Antiguan and Barbudan citizens if you are looking to enter any of the above countries—regardless of how long you are intending to stay there.
Please note that ETIAS only applies to the above countries. You will not need ETIAS to travel anywhere outside of Europe. Keep in mind that ETIAS is also not required for the European states outside of the Schengen area, such as the United Kingdom, Ireland, and Croatia—among numerous other destinations on the continent.
ETIAS for Antigua Barbuda Citizens: How to Apply
An ETIAS for Antigua Barbuda citizens can be obtained via the below application process:
Download the ETIAS app/visit the ETIAS website

Unlike a traditional visa, you don't apply for ETIAS through a physical location (consulate/embassy) but rather through an online system—either the official website or app, both of which are accessible through computer/cellphone.

Pay the ETIAS visa cost

Unlike the price of a Schengen visa fee (80 EUR for most applicants) the ETIAS application fee is low (only 7 EUR). Additionally, ETIAS applicants do not have to pay fees associated with processing and biometric data collection (fees which most Schengen visa applicants are subject to.
As soon as your payment is processed (via credit or debit card) you will be redirected to the form.
Please note that applicants who are under the age of 18 and over the age of 70 are exempt from the ETIAS application fee.

Complete ETIAS application form

The ETIAS application form will ask you questions about your biography, your current and previous journeys to the Schengen area (and elsewhere) and request information about any potential criminal history.
In addition to submitting the above information, you will need to submit your passport number and potentially additional info contained on your travel document. Because of this, you will need you Antiguan passport in order to apply for your ETIAS.

Submit your application for processing

After paying your ETIAS fee and filling out your form, you will digitally submit your electronic application for processing.
For most, the ETIAS application review process will be extremely quick (under 10 minutes). However, if you are one of the few whose application is tagged by the ETIAS system, you might have to wait a maximum of 30 days in order to receive a decision on your application.
If you think that your background history might lead you to being targeted by the ETIAS collective security system, you should apply for the waiver 30 days prior to traveling, in order to make sure that you receive it in time for your trip. However, if you have no criminal history or reason to believe your application would be held up, you can apply for your ETIAS shortly before traveling.

Use your ETIAS to enter the Schengen area

Show your ETIAS at the Schengen area border. Because most third-country travelers enter the Schengen area via air, most ETIAS holders will have to show their authorization at the airport, as a condition of boarding their flight.
Once you enter the Schengen area with your ETIAS, you will not need to show it again, unless you exit the zone and attempt to return to it.

Retain your ETIAS for future Schengen trips

Antiguan and Barbudan passport holders who successfully receive an ETIAS can use it to gain entry to the Schengen area for the next three years, at which point it will expire. When it does expire, you will need to go through the above application process again.
For more ETIAS application advice contact us here.