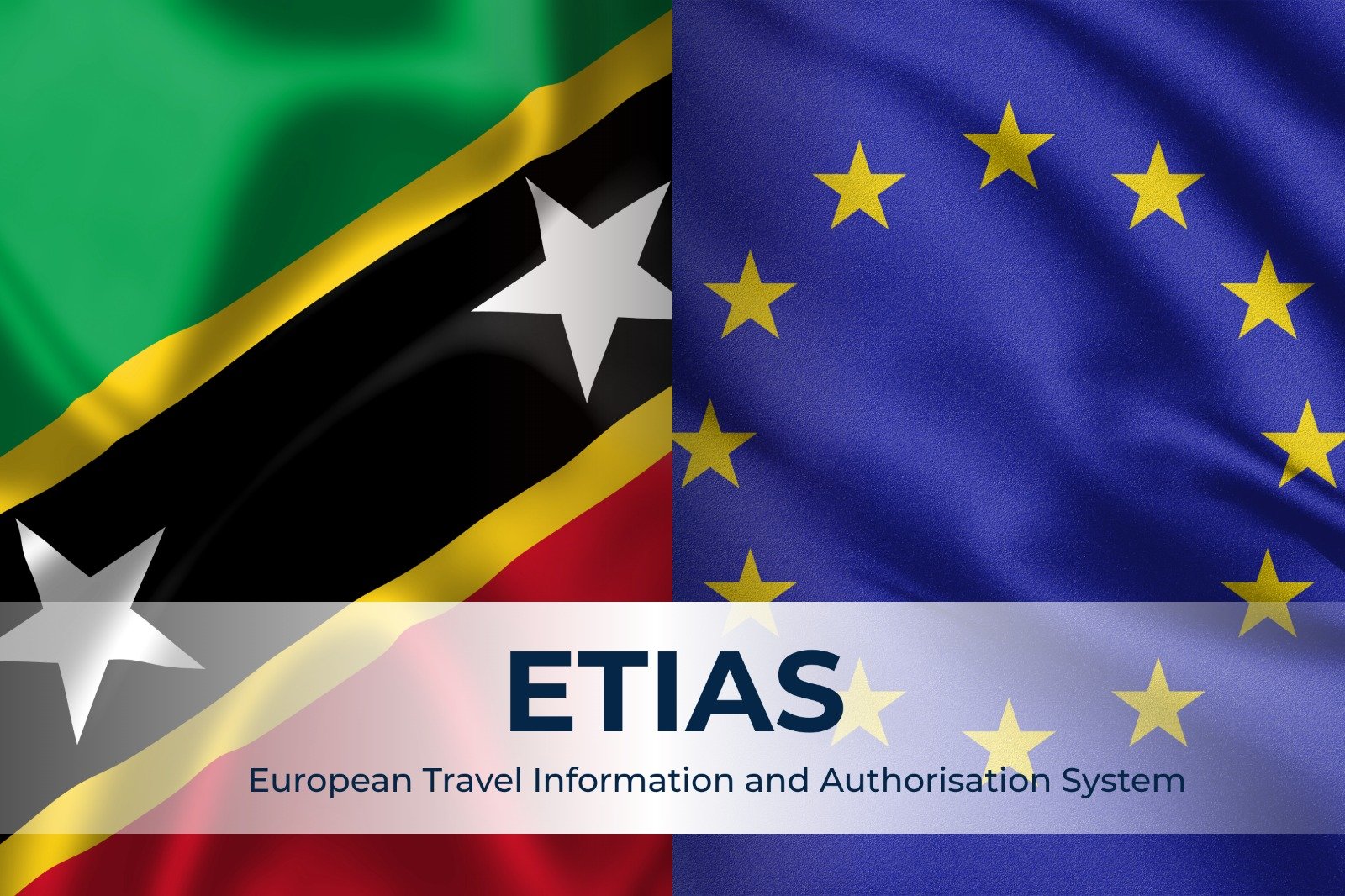 Published on:
12 August 2021
One of the main advantages of the Saint Kitts and Nevis Citizenship by Investment program is the travel opportunities investors gain through their participation in the country's CBI scheme. Many who choose to invest in a passport from the dual-island nation ultimately do so because traveling to Europe with Saint Kitts and Nevis passport is so easy. Currently, citizens of St. Kitts and Nevis do not need a visa to enter the Schengen area, a group of 26 European countries that contains France, Italy, and Germany. However, starting in 2022, the Schengen area will start requiring that nationals of states with visa-free access to the Schengen area (countries like St. Kitts) obtain something called an "ETIAS" to enter the zone. While not a European visa, ETIAS (which stands for European Travel Information and Authorization System) is a type of electronic travel authorization that (similar to a visa) will grant a traveler access to certain European countries. If you already have a St. Kitts passport, or you are considering purchasing one, you may be wondering how the new ETIAS requirements will affect traveling to Europe for citizens of St. Kitts and Nevis. This blog will explain what ETIAS for St. Kitts and Nevis citizens is and how it works. Additionally, readers will learn what countries citizens of St. Kitts and Nevis need an ETIAS for while also discovering ETIAS application advice.
What is ETIAS?
ETIAS is a type of travel document individuals from certain countries will need to enter the 26 states in the European Schengen area.
The purpose of ETIAS is to subject would-be travelers to the Schengen area to a form of security screening in order to prevent any criminals or terrorists from entering the zone. During the application approval process, the applicant's relevant information will be run through the collective Schengen security system; if the applicant comes up in the system (i.e. has an identifiable criminal history) he or she will likely be denied an ETIAS (and therefore entry to the zone).
ETIAS will exclusively apply to travelers from countries who traditionally have visa-free access to the zone. Prior to ETIAS, the Schengen area had essentially zero oversight or control over citizens from states that had visa-free access there. Because they didn't need to apply for a visa, citizens from a visa-free country could enter the Schengen area without undergoing any kind of security checks. By subjecting nationals from visa-free countries to a kind of screening, ETIAS therefore hopes to reduce the potential threat posed by unscreened travelers.
Keep in mind that ETIAS is not a visa. While visas are obtained through individual country consulates/embassies, the ETIAS application is not linked to a specific country. The ETIAS process takes around 10 minutes for most applicants, and does not require the submission of any documents (aside from the basic application form) other than a passport (this is again in contrast to visas, which can take weeks to apply for and receive, and which often involve the submission of multiple documents).
What countries do St. Kitts and Nevis citizens need an ETIAS for?
ETIAS eligibility for Saint Kitts and Nevis will require passport holders from the country to obtain an ETIAS to access any of the states located in the European Schengen area. This group of 26 countries includes some of the world's most visited tourist destinations, like Paris, Rome, Barcelona, and Berlin.
If you have a St. Kitts passport, you will need to apply for an ETIAS in order to visit any of the following countries: Austria, Belgium, the Czech Republic, Denmark, Estonia, Finland, France, Germany, Greece, Hungary, Iceland, Italy, Latvia, Liechtenstein, Lithuania, Luxembourg, Malta, the Netherlands, Norway, Poland, Portugal, Slovakia, Slovenia, Spain, Sweden, and Switzerland.
How to apply
ETIAS for St. Kitts and Nevis Citizens will be available online, via the ETIAS website or the app (which will be made available for download).
ETIAS visa waiver requirements are minimal (the only document the applicant needs is a passport. Once a traveler accesses the online ETIAS site/application, he or she will pay a fee (just 7 EUR) and be directed towards the application form, which will consist of basic biographical information (name, age passport number). In addition, the traveler will be asked questions about their criminal travel, and visa history.
The entire process should take around 10 minutes. If your application is accepted (i.e. you are assessed not to present a threat to the zone) you will receive your authorization (in electronic form). You will present this authorization to the relevant security personnel upon entry to the Schengen area.
ETIAS eligibility for Saint Kitts and Nevis
Once you fulfill your ETIAS requirements and receive your authorization, it will be valid for entry to the Schengen area for the next three years (meaning you won't need to re-apply next time you want to enter the zone until it expires).
ETIAS application advice
Applicants should be honest on their ETIAS application. Lying about your criminal history is not recommended.
For help fulfilling your ETIAS visa waiver requirements, contact us here.