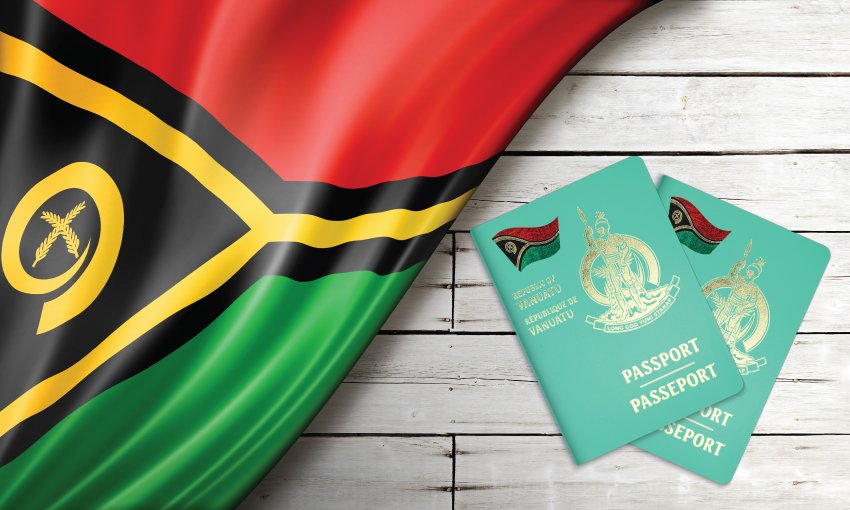 Published on:
17 October 2021
The Vanuatu passport is available to anyone who successfully becomes a Vanuatuan citizen through the country's Citizenship by Investment (CBI) program. Today's blog will provide an introduction to the Vanuatu citizenship process, with the ultimate goal of helping you understand one of the best investment programs on the market. Below you will find a step-by-step guide to the Vanuatu passport application process, including an overview of the donation pathway, as well as a checklist of the documentation required for a Vanuatu passport. Finally, today's blog will discuss the many benefits of holding a Vanuatu passport.
Vanuatu citizenship process
Contact Guide Consultants

The first step toward obtaining a Vanuatu passport is to contact Guide Consultants. Guide will walk you through the below steps, ensuring that you submit a flawless application.

Explore your citizenship option

Those interested in achieving economic Vanuatu citizenship can pursue it through the donation option. If you choose to participate in the Vanuatu CBI program, you will simply make a cash infusion via the islands' Development Support Program (DSP).
The minimum investment for a single application through DSP is $130,000 USD (not inclusive of additional application fees). Applicants who add additional people to their application (such as a partner or children) will pay more, per individual. For example, the cost of citizenship for a single applicant plus his or her husband/wife and a sole child (up to age 17) is $165,000 USD (vs. $130,00 USD for a single applicant).

Submit your required documents

The checklist of the documentation required for a Vanuatu passport is as follows:

Passport
Photos of applicants
Fingerprint (collected by citizenship officer)
Various official CBI forms
Form showing outcome of physical performed by your doctor (signed by your doctor)
Letter of certification from the Commissioner of Vanuatu Financial Services (copy)
Letter of certification from the Director of Vanuatu Immigration Service (copy)
CV of applicant
Document indicating that your lack of criminal history if your current country of residence/country of citizenship
Marriage certificate (copy) (if applicable)
Passports and birth certificates of any other individuals included on the application (copies)

Pay the application fee

All applicants for Vanuatuan citizenship must pay the application fee.

Await your decision

Applications for Vanuatu passports are processed rather quickly relative to other CBI programs, which can sometimes take months. The due diligence process involves the assessment of your application by CBI officials (including the compliance officer), which sends it onward to the Citizenship Commission, which must also sign off on it.
When it comes to Vanuatu, applicants tend to receive a letter containing the decision on their application in under two months. Please note that applications for citizenship under the REO program will likely have longer processing times.

Make your citizenship oath

After you receive word that your application for Vanuatu citizenship has been approved, you will be advised (via written instructions) as to how to proceed with taking an oath of citizenship. This oath assumes the form of a "written oath statement," which you must fill out personally.

Pay your Vanuatu passport fees

Once you have taken your oath, you will schedule your citizenship payment. Your payment must be received in full in order for your citizenship application to be complete.

Receive your citizenship

After paying your complete citizenship costs, you will receive your Vanuatuan citizenship.
Benefits of holding a Vanuatu passport
There are a number of advantages to holding a Vanuatu passport and obtaining Vanuatu citizenship generally, which are summarized below:

Vanuatu visa-free travel

A Vanuatu passport is your gateway to visa-free/visa on arrival access to over 130 countries/destinations in Europe, Asia, and the world.
A major benefit of the Vanuatu passport is the access it provides to Europe. In addition to being able to enter both Russia and the United Kingdom without a visa, holders can access the entire Schengen area, which includes the following states: Austria, Belgium, the Czech Republic, Denmark, Estonia, Finland, France, Germany, Greece, Hungary, Iceland, Italy, Latvia, Liechtenstein, Lithuania, Luxembourg, Malta, the Netherlands, Norway, Poland, Portugal, Slovakia, Slovenia, Spain, Sweden, Switzerland.
The above states are just a small selection of visa-free countries accessible with a Vanuatu passport. Additional visa-free global highlights for Vanuatu citizens include Singapore, Belarus, Kenya, Costa Rica, all of the independent Caribbean countries (Bahamas, Dominica, St. Kitts and Nevis, etc.), as well as Indonesia and Peru.
Another travel benefit of the Vanuatu passport: holders need only to obtain visas on arrival in order to enter much of Asia, Africa, and the rest of the world.
Explore the Middle East through a Vanuatu passport, by obtaining a visa on arrival for access to the following states: Jordan, Egypt and Iran.

Tax haven

Vanuatu is classified as a tax haven due to the absence of income tax, wealth tax, generational tax, and other tax obligations found in most countries around the world. If you receive Vanuatu citizenship, your wealth will grow in the absence of tax burdens, in a stable fiscal environment.

Vanuatu dual citizenship

Vanuatu nationals can enjoy Vanuatu dual citizenship. This means that if you become a citizen of Vanuatu, you will not have to give up your old citizenship in order to enjoy all of the benefits of a Vanuatu passport.

Zero Vanuatu residency requirements

No Vanuatu residency means that applicants do not have to live on the island for the purpose of maintaining their citizenship or keeping their passport. You can keep both while continuing to live abroad—and even without having to visit the island!

Vanuatu residency

Even if you are not bound by residency requirements as a CBI investor, you may still wish to live on the island, which has many charms. Happily, Vanuatu residency is one of the perks of Vanuatu citizenship; if you become a citizen through its CBI program, you will gain the right to live on the island, should you so choose.
Vanuatu is, secure, stable, and family-friendly (one of the reasons it is such a popular tourist destination). Thousands of foreigners travel to Vanuatu annually in order to explore its world-class beaches and lush forests, which host volcanos, waterfalls, and other natural wonders. The country has become a top destination for diving, surfing, and snorkeling; if you do ultimately end up living there, you will never run out of activities or entertainment. And if you get bored of island life, Australia is just a four-hour direct flight away!

Low cost of living

If you are ultimately moved by the islands' charms and do end up residing in Vanuatu, you will enjoy a high level of living at a low cost. Prices on Vanuatu are low for goods and services, which means that you can enjoy an elevated lifestyle at a fraction of the cost elsewhere (especially in light of the country's minimal tax obligations).

Supporting the economy

In addition to all the direct financial, personal, and travel advantages you will experience as a result of your investment in Vanuatu, applicants in the CBI program often benefit from the knowledge that their investment goes toward the economy of Vanuatu.
The Vanuatuan economy is hugely reliant on CBI investors like you. Funds from the country's second passport program are utilized by the government to reduce its debt obligations and help benefit the economy generally. An investment in Vanuatu is therefore an investment in the country's ongoing economic wellbeing.
For more information on how to obtain a Vanuatuan passport through the country's CBI program, and for personalized advice on how to choose the best investment program for you and your family, please contact us here.