Dominica Passport
The Dominica passport is an official travel document issued to all Dominica citizens, which serves as proof of identity during international travel, as well as official proof of citizenship of the Commonwealth of Dominica. The passport obtained by native Dominican citizens is not any different from the passport obtained through the Dominica Citizenship by Investment (CBI) program.
Dominica Passport Specifications
In late July 2021, Dominica started to replace the traditional passports with biometric passports. Dominica passport holders can use the original passport until the end of August 2022, after which all passport holders should transition to a biometric Dominica passport.
Benefits of the biometric Dominica passport:
While the traditional passport contains only 32 pages, Dominica's biometric passport consists of 50 pages, affording its passport holders less time and cost between passport renewals.
Dominica's biometric passport contains an integrated electronic chip that has the passport holder's biometric data and enables the use of facial recognition technology, adding to the security and power of the Dominica passport, as well as to the efficiency of travel.
The personal data pages are water-resistant, and the writing is laser engraved making it more durable and effective.
The new passport design is also more aesthetically pleasing, modern, and proudly reflects the heritage of the island.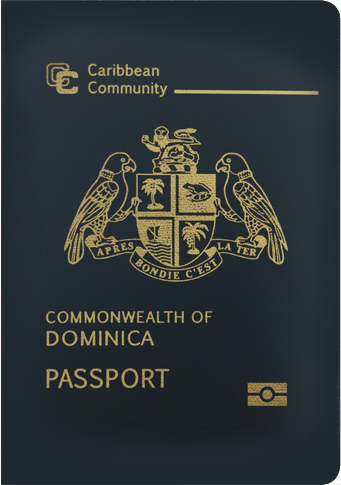 Validity of the Dominica Passport
The Dominica passport is valid for 10 years.
Passports issued to children under 16 years of age are valid for 5 years.
Dominica Passport Power
The Dominica passport has an advanced rank amongst the world's passports, as it allows its holders to travel visa-free to more than 145 international destinations. This attractive feature drives many investors to apply for the Dominica Citizenship by Investment (CBI) program.
Dominica's high-ranking passport power allows its holders visa-free travel to many of the world's most prominent business and tourist destinations around the globe.
How to Apply for a Dominica Passport
The applicant needs to meet the Dominica passport requirements and prove Dominican citizenship, whether obtained by birth, descent, adoption or by the Dominica Citizenship by Investment program. The required documentation for applying includes:
Completed passport application form

Two personal photos:

The photos should be taken within the last six months.

The photo size should be 45x35 mm.

The head must face forward (portrait style), the facial expressions must be neutral, and the ears visible.

The background must be white or light in color, without shadows, and differ from the color of the clothes.

The face must be visible, i.e., no sunglasses or head coverings (hair covering is allowed in the case of veiled women for religious purposes only).
Proof of payment of Dominica passport fees.

Original birth certificate or original citizenship certificate (in case of obtaining Dominica citizenship by investment).

The current passport in the case of passport renewal.

Marriage/divorce certificate, if applicable (must be translated into English).

In the event of a previous lost or stolen Dominica passport, an official police report at the location of the incident must be submitted, in addition to a legal declaration signed by a notary (these documents must be translated into English).
Book a Free Consultation
Dominica Passport Benefits
The Dominica passport allows its holder to travel to over 145 countries without a visa or with a visa on arrival

Dominica's biometric passport is a sophisticated and secure passport that guarantees an advanced level of protection against data theft or impersonation

The Dominica passport is a profitable investment that can be obtained with a one-time payment (the cost of obtaining Dominica citizenship by investment), thus benefitting its holders with great investment opportunities and tax exemptions

Dominica passport holders through the citizenship by investment can maintain dual citizenship and retain their original citizenship and passport, while enjoying the additional Dominica passport benefits

It has a long validity period of up to 10 years
Dominica Citizenship by Investment and Passport
Investors who succeed in obtaining Dominica citizenship through investment benefit from tax freedoms on wealth, gifts, inheritances, foreign income and capital gains that Dominica affords to all residents and nonresidents of the island.
The Dominica Citizenship by Investment (CBI) program offers the Dominica citizenship and passport to investors who meet the minimum investment requirement

Dominica citizenship by investment can be obtained through one of two options: donating a specific amount to the Economic Diversity Fund in Dominica, or investing in real estate in one of the approved real estate projects in Dominica

After obtaining Dominica citizenship through the Dominica Citizenship by Investment (CBI) program, you can apply for a Dominica passport and enjoy all the advantages offered to its holders, most notably Dominica passport visa-free travel to more than 145 countries worldwide

The Dominica Economic Citizenship Program does not require residency on the island in order to obtain or renew a passport, suitable for business people who want to enjoy the benefits of holding a high ranking second passport without the obligation of residency in Dominica
Dominica Visa Free Countries
Over the past number of years, the Dominic government has been successfully working to expand its list of Dominica passport visa-free countries.
FAQs About Dominica Passport
Dominica passport ranks 32nd place according to the Guide Passport Ranking Index, It provides visa-free access to 146 countries.
Why do our clients choose us ?
We operate in complete transparency and provide tailored solutions based on our client needs, while always being fully compliant with government rules and regulations.