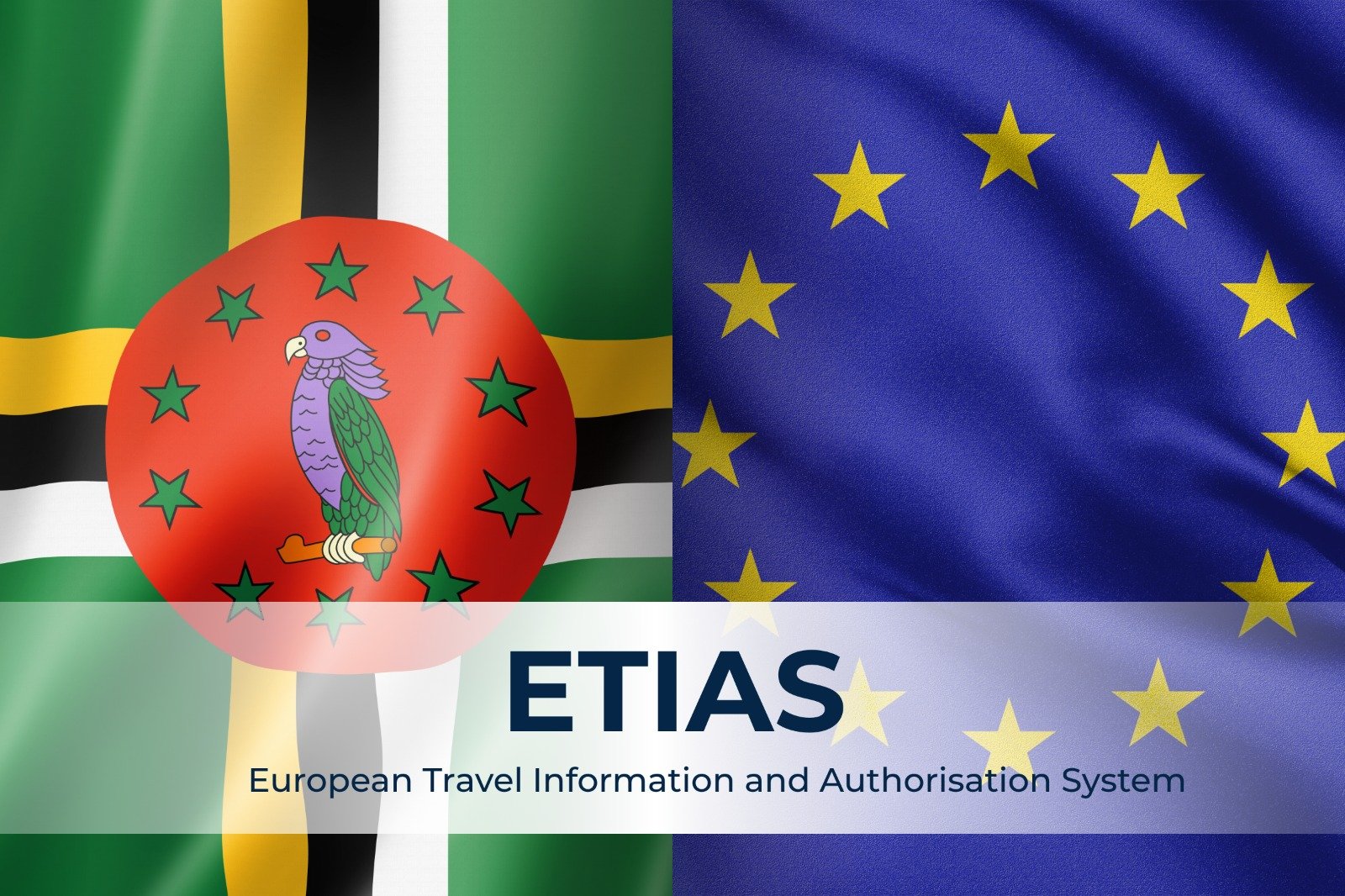 Published on:
02 August 2021
"Do Dominicans need a visa for Europe?" At the moment, traveling to Europe for Dominican citizens is possible without a visa, as the 26-nation strong European Schengen area is included on the Dominica visa-free countries list. However, in 2022, the Schengen area will debut something called the "European Travel Information and Authorization System" (ETIAS). Going forward, countries like Dominica (whose nationals previously had visa-free access to the Schengen area) will have to obtain the ETIAS authorization, before traveling to Europe. What is the ETIAS for Dominicans, and how will it affect travel to Europe and elsewhere? Find out the answer to this question, and read on for a list of Etias requisites for Dominica citizens, the various ETIAS benefits, and for general ETIAS application advice.
Dominica citizenship and passport
One of the main benefits of Dominica citizenship (available for purchase via the island's Citizenship by Investment program) is the number of visa-free and visa on arrival states accessible with a Dominica passport: over 140 countries and territories around the world.
A main highlight of the Dominica passport is how it enables Dominica citizens to undertake visa-free travel to the entire Schengen area, which includes 26 of the most notable countries in Europe. Due to the power of the Dominica passport (ranked 32nd in the world), Dominica citizens can currently travel to France, Italy, Germany, and Spain without obtaining any visa whatsoever.
Because ETIAS is so easy and inexpensive to obtain, it will not negatively impact Dominica citizenship, which remains coveted second citizenship for investors who prioritize freedom of movement.
What is the ETIAS authorization?
For decades, a select group of countries have experienced visa-free access to the Schengen area, meaning that their citizens have only needed to present their national passport to gain entry to the zone. However, in an attempt to further securitize the area, the Schengen countries recently collectively decided to subject citizens of visa-exempt countries to an additional screening process—the ETIAS.
Essentially, Etias is a type of permission that travelers from certain countries (including Dominica) will be required to obtain in advance of (and therefore in order to) visit the European Schengen area. Those approved for ETIAS will be granted an electronic authorization, which will allow them to enter the zone.
Please note, ETIAS will exclusively affect travel to the Schengen area—if you have a Dominica passport, you will not need to obtain ETIAS to travel anywhere outside of Europe.
ETIAS advantages
There are a number of ETIAS benefits. In terms of documents and materials, ETIAS requirements are limited to a national passport. Other than that, travelers will not need to present any additional documents in order to apply. In this way—and in so many others—the ETIAS reveals itself to be entirely different from a traditional visa, which requires applicants to submit numerous documents and fulfill a number of in-person requirements (for example, unlike the Schengen visa, there is no interview for ETIAS).
In addition to being quick, easy, and inexpensive to obtain, ETIAS has the benefit of being long lasting—once you receive your first ETIAS, you will not have to apply for another one for five years, meaning that you can use it to travel to Europe for a half a decade.
ETIAS for Dominicans
After reading the above description of ETIAS, you may be wondering, "Does this mean Dominicans need a visa for Europe now?" The answer to this question is no—as you can see from above, ETIAS is not a visa.
However, because Dominica currently has visa-free access to the Schengen area, Dominica citizens will become eligible for ETIAS as soon as the system becomes operational. Because of this, the answer to the question, "Do Dominica citizens need to apply for ETIAS to travel to the Schengen area" is "" Once the ETIAS system becomes operational, Dominica citizens will need to apply for the ETIAS in order to travel to any and all of the Dominica visa free countries in Europe (Germany, France, Spain, etc.).
ETIAS requirements for Dominica citizens:
ETIAS requirements for Dominica citizens include the following:

A Dominica passport (once you receive a Dominica passport, you will become eligible for ETIAS for Dominican citizens)
Payment of the application fee (ETIAS fees for Dominica citizens are only 7 EUR)

As noted above, Etias requisites for Dominica citizens do not include any in person requirements (there is no such thing as an interview for ETIAS). Simply access and fill-out the online application form, pay the small fee, and wait 10 minutes to receive your authorization!
How to apply for the ETIAS for Dominican citizens
The entirely online ETIAS application process will take 10-minutes for most applicants, who will simply access the ETIAS application form via the official website or by downloading an App to their phone and paying the 7 EUR application fee.
After paying, you will be directed to the application form, which consists of basic biographical questions about the traveler (name, age, etc.) as well as information about your upcoming trip, and history of traveling to the Schengen area.
After answering these questions, the information you provided will be filtered through the ETIAS watchlist (i.e. various Schengen security systems), which will subject the you to a background check, whose purpose is to ensure that you do not present a security concern to the Schengen states. If you do not have a criminal history (and if you have previously followed Schengen immigration rules) you should not show up in the ETIAS watchlist, and will therefore be approved for an ETIAS.
You can now use your ETIAS—digital in form—to board your flight/transportation to the Schengen area (airlines will likely require presentation of the ETIAS as a condition of boarding).
For more ETIAS application advice, please contact us.