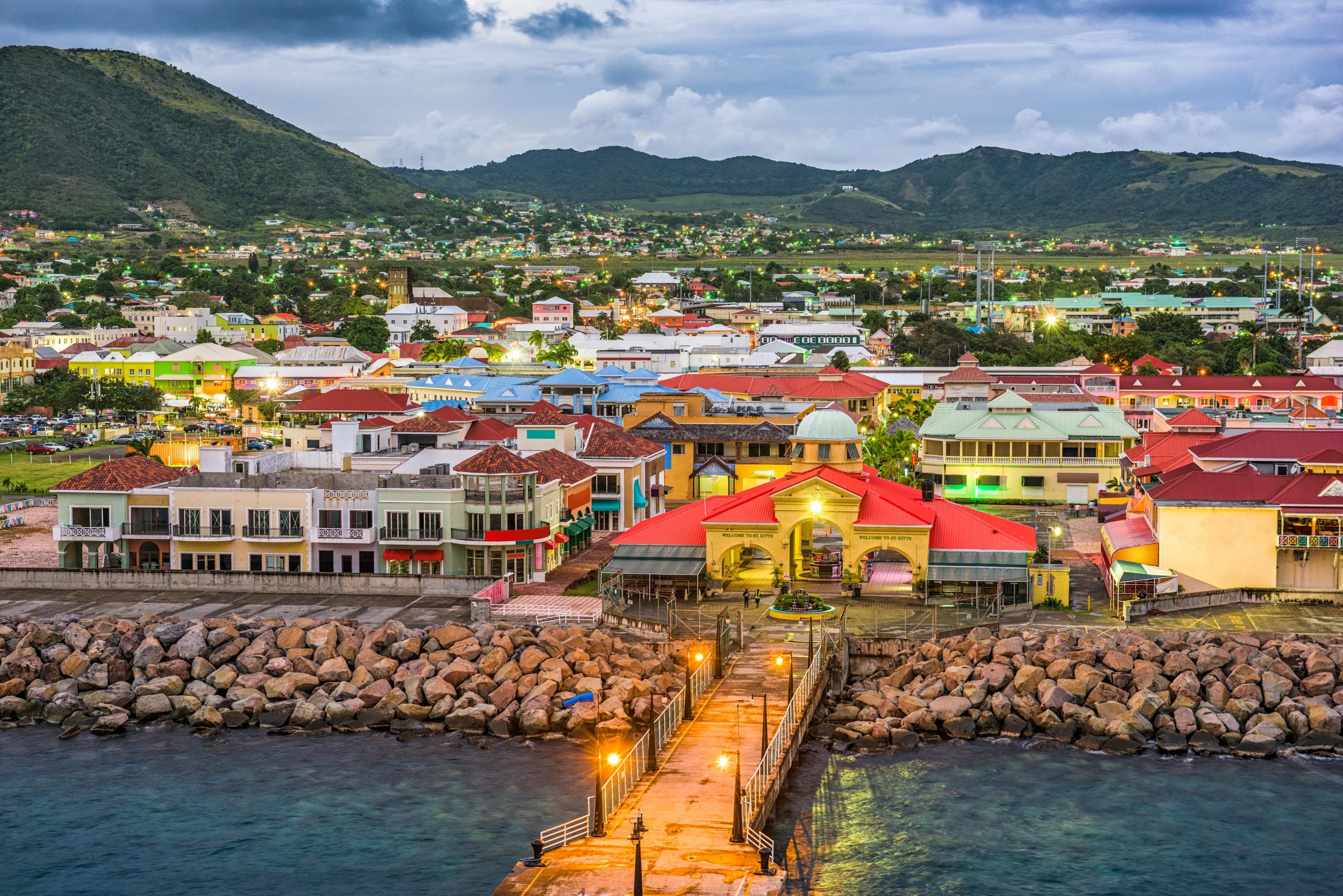 Beautiful, accessible, and secure, This is the life in St. Kitts and Nevis, St. Kitts and Nevis is a popular destination for tourists and investors alike. A three-hour flight from Miami located in the Caribbean Sea, the dual-island, West Indies nation is known in business circles for its attractive second passport program, which offers St Kitts and Nevis citizenship in exchange for a monetary contribution to the country. St. Kitts and Nevis citizenship by investment scheme have no residency requirements, meaning that those who pursue the program don't have to live on either St Kitts or the Nevis Caribbean island in order to accrue the benefits of nationality, which include low taxes and visa-free travel to over 150 countries in Europe and the world. However, many investors who receive a St Kitts and Nevis passport ultimately seriously consider living on the island due to the many economic and lifestyle benefits of residency.
If St. Kitts and Nevis's citizenship by investment program appeals to you, read on to discover what life is like on the islands!
About St. Kitts and Nevis
A predominately Christian nation ruled alternatively by the French and the British until 1983, its small, very friendly population (around 53,000) is concentrated between two main islands; St. Kitts (the larger and more developed of the two, and the location of the capital: Basseterre) and Nevis, which is separated from the main island by a two-mile stretch of water. Neighboring islands include Puerto Rico (about an hour away by plane) Anguilla, and the British Virgin Islands (BVI).
The islands are mountainous, dotted with rainforest and palm trees and ringed by crystal clear waters and white-sand beaches. In addition to fantastic scenery, St. Kitts and Nevis offer residents a vibrant Caribbean culture and a relaxed island lifestyle. It's hot and humid climate (the temperature rarely dips below 22(°C), even in the middle of winter) is conducive to year-round swimming and other water sports, including sailing and diving (the islands host some lovely coral reefs that attract spectacular wildlife). Fresh air, clean waters, and stunning nature preserves make a healthy and stress-free lifestyle easily attainable for those ready to explore the islands' wide variety of outdoor experiences.
In addition to its water sports and hiking trails, St. Kitts and Nevis also several golf courses, including the excellent Royal St. Kitts and the Four Seasons Nevis; both recently revamped 18- hole courses offering stunning ocean views and challenging play. In addition to golf, cricket, a legacy of the British colonization, remains incredibly popular, while the recent successes of the national football team continue to raise the profile of the sport on the island.
The islands' vibrant restaurants serve a variety of cuisines, heavily influenced by Creole and West Indian flavors and revolving around freshly-caught seafood and locally-grown tropical fruit. Popular dishes include conch fritters, sugar cake, and the curiously-named Goat Water- not water at all, but a delicious stew, and the country's national dish! For nightlife, casual beachfront bars are popular with locals and tourists alike, while the capital offers a couple of large casinos (smaller gambling venues can be found on Nevis). The colorful national carnival (known locally as Sugar Mas) is held annually from November-January, while other music festivals also dot the cultural calendar.
Some of the most visited attractions on St. Kitts and Nevis include the Brimstone Hill Fortress National Park, a gigantic, colonial-era defensive structure built by the British that is now a UNESCO World Heritage Site, and Frigate Bay, which contains some of the country's most popular public beaches. Tourists and residents alike enjoy hiking through the jungle, swimming, snorkeling, and climbing the rain-forested Mount Liamuiga-the country's dormant volcano, whose peak offers dramatic views of the surrounding Caribbean islands.
St Kitts and Nevis Cost of Living
One of the main reasons cost-conscious investors consider relocating to the country is because St Kitts and Nevis cost of living are actually quite low relative to other tax havens. A luxurious lifestyle is achievable on St. Kitts at a low cost; you can live very well in the islands without spending much money, due to the low costs of goods and services. For example, the price of beer on the islands is incredibly low-about $1 per bottle!
Government and Security in St Kitts and Nevis
St. Kitts and Nevis is a safe country for individuals and families. Crime is low on the islands, which have a stable democratic government. After gaining independence from the British, St. Kitts and Nevis transitioned to a commonwealth and constitutional monarchy; Queen Elizabeth of England remains its head of state. Today, St. Kitts and Nevis are peaceable and secure. A member of the United Nations, the WTO, and the IMF, St. Kitts and Nevis maintain positive and close relations with its fellow independent Caribbean states as well as with the United States, with whom it collaborates on security issues.
Real Estate in St Kitts and Nevis
Investing in real estate in St. Kitts and Nevis is one of the main ways to achieve economic citizenship from the country. Eligible investors who meet all the legal requirements can receive a Nevis Caribbean passport by purchasing pre-approved real estate on the islands for a minimum $200,000 USD (not including fees). While you don't have to actually live in the property you eventually purchase, you may choose to do so if you end up visiting the islands and seeing all it has to offer! (Click here for information on receiving Kittian citizenship through donation).
St Kitts and Nevis Language & Currency
The advantages of St Kitts and Nevis language & currency are immediately apparent to investors who want to live in a country where they can easily communicate with the residents and also enjoy high purchasing power. Happily, English remains the official language (locals also speak a dialect of French Creole) making communication a breeze. The island's various public and multiple private schools all teach in English; a plus for foreign parents seeking to continue their child's English language education. The island shares its currency-the East Caribbean Dollar-with eight other members of the Organization of Eastern Caribbean States (OECS). Pegged to the American dollar, the ECD has a normal exchange rate of US$1 = EC$2.70, which means that your money is worth more in St. Kitts and Nevis than it is in many other countries.
Jobs in St Kitts & Nevis
A growing economy that remains largely dependent on tourism, most of the available jobs in St. Kitts & Nevis are found in the tourism industry, which is dominated by large resorts. Employment opportunities are also available in the agricultural sector, which recently diversified after centuries of domination by the production of sugar cane.
The islands offer an ideal destination for those able to work from home. If you are looking for a place to manage your money and hold meetings remotely from a secure and safe environment, a St. Kitts and Nevis passport is a good option for you. With zero foreign income taxes (or taxes on wealth, inheritance, or gifts) the country allows investors peace of mind when it comes to both working at home and preserving capital gains.
Travel to St Kitts & Nevis
One of the main benefits of St Kitts and Nevis citizenship program is its expanded travel opportunities, which allow for visa-free access and increased travel mobility to over 113 states and territories around the world. A Nevis Caribbean passport offers its bearer entry to all 26 European Schengen states, as well as some of the most popular destinations in Asia, Africa, and the Americas.
The country has two international airports-one on each island. St. Kitts offers direct flights to Europe-Nevis to Caribbean countries. St. Kitts also hosts a large and bustling port for cruise ships, which often pick up and unload passengers to and from the island. Residents of St. Kitts can explore its easily accessible and uniquely enchanting neighboring islands, which share a common currency and uphold visa free access for residents and citizens of fellow Caribbean states.
More info
If, after reading the above, you are intrigued by the possibility of living In St. Kitts and Nevis, or wish to explore other second passport options, please contact our dedicated experts at Guide Consultants.