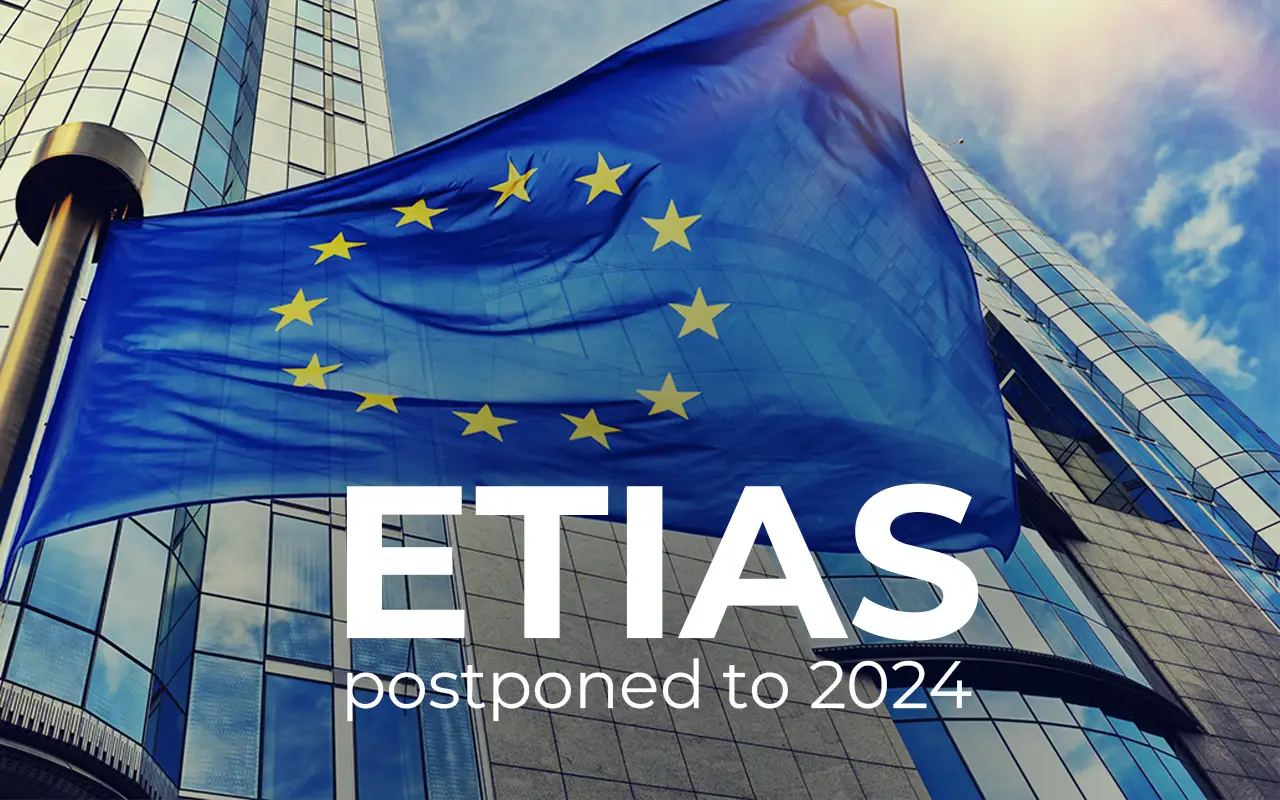 Published on:
26 February 2023
The launch of the European Travel Information and Authorization System (ETIAS) has been postponed from November 2023 to an unspecified date of 2024.
The launch of ETIAS had previously been postponed from May 2023 to November 2023. Before that, it had been rescheduled to 2022, after the initial launch date in 2021 was discarded.
ETIAS will be an automated IT system intended to grant short-stay travel authorizations to non-EU nationals from visa-exempt countries who want to enter the Schengen area. To grant these travel authorizations, the system will be designed to grab the traveler's information and conduct checks against different databases in order to detect public health, security, and irregular migration risks.
This travel authorization will be a mandatory pre-condition for non-EU, visa-exempt travelers to effectively enter the Schengen area, provided that they also have all the required travel documents and comply with other entry rules of the Schengen area. Border guards will request ETIAS authorization along with passports and other travel documents.
The process to obtain an ETIAS travel authorization is intended to be short and simple. After filling an online form, a non-EU visa-exempt traveler will be able to obtain the authorization within minutes. In most cases, the application process will not last more than 96 hours. The traveler will know if additional documentation or information is needed in order to obtain the ETIAS travel authorization. In this case, the procedure may last up to one month, for which the EU authorities have already recommended non-EU visa-exempt travelers to apply for an ETIAS travel authorization with anticipation.
The application process will involve a fee of €7, unless the applicant is a family member of an EU citizen or a non-EU citizen with a right of free movement in the EU, such as people from Norway, Liechtenstein, Switzerland, Ireland, and Iceland.
Once the verification process is finished and the application is approved, the ETIAS travel authorization will be valid for three years or until the holder's passport expires. It will only allow for short stays of 90 days in any 180-day period, though.
As part of the Security Union, ETIAS is intended to meet the objectives of the European Agenda on Security and Migration. It will strengthen the EU borders and the external border management while also improving internal security and facilitating entry for legitimate travelers. The EU expects that ETIAS will avoid bureaucracy and delays at border crossing points.
ETIAS is being developed by the European Agency for the operational management of large-scale IT systems in the area of freedom, security, and justice (eu-LISA) since the ETIAS Regulation 2018/1240 was approved in September 2018 and came into effect in October 2018.